This article is a stub. You can help the Shadow of Mordor Test Wiki by expanding it.
Acharn
is the dagger used by
Talion
in
Middle-earth: Shadow of Mordor
. As with Talion's other weapons,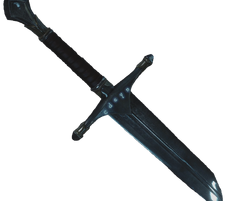 Acharn can be upgraded using
runes
, giving it unique bonuses that allow for more efficient use during battle.
Acharn is actually the shattered sword of Talion's son, Dirhael.
Acharn means Vengeance in the Elven language Sindarin.