This article is a stub. You can help the Shadow of Mordor Test Wiki by expanding it.
Caragors
are enemies in
Middle-earth: Shadow of Mordor
.
Uruk
of
Mordor
used them as a form of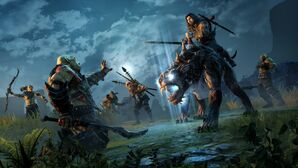 transportation.
Talion is able to use his Wraith abilities to dominate Caragors, forcing them to fight with him. Talion can also ride dominated Caragors for extra speed and climbing ability. Riding Caragors also gives Talion the abilty to fight on top of it. He can order them to bite or simply attack using his sword, Urfael.
When Talion is riding a Caragor, some nemeses may become afraid and run away or become enraged, causing them to become more deadly.     
Caragors are commonly confused with wargs, which are mentioned in many of the Lord of the Rings books.
In a demo with the lead designer, it was said that the Warg is to a wolf what a Caragor is to a lion.