Welcome
Mordor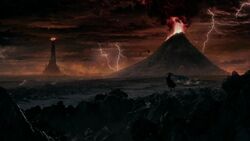 Mordor is the region of Middle-earth in which Middle-earth: Shadow of Mordor takes place. It is the home kingdom of Sauron, situated in southeastern Middle-earth and east of Gondor, Ithilien and the great river. Mordor was chosen to be Sauron's fortress because of the mountain ranges surrounding it on three sides, creating a natural fortress against his enemies. Much of the land was a volcanic waste due to the activity of Mount Doom, but some could be cultivated and the Dark Lord's slaves raised food for his armies here as well.




Mordor is protected by three mountain ranges on all sides. The Ash Mountains lie in the north and the Mountains of Shadow in the west and south. The only viable large entryway into Mordor lies in the north-west corner of Mordor: the deep valley of Udûn protected by the Black Gate of Mordor. Sauron's Dark Tower, the fortress of Barad-dûr, was located at the foothill of the Ash Mountains.
Read more >
Inhabitants
Voice of the Community
Create blog post



Click here to watch the video.

August has arrived, and with it so has beautiful sunshine, and your first chance to get hands-on time with Shadow of Mordor at Gamescom 2014!

If you're part of the epic horde descending on Cologne, Germany for the yearly g…

Read more >

Continuing our Behind the Scenes series, we took a chance to sit down with Troy Baker (Talion) and Alastair Duncan (Celebrimbor), to discuss their experiences creating Middle-earth: Shadow of Mordor.

Take a look now, and get some first peeks at brand …

Read more >
See more >
Forum
News From Middle-earth
Cast Your Vote
Screenshots
Legal Info
MIDDLE-EARTH: SHADOW OF MORDOR © 2013 Warner Bros. Entertainment Inc. Developed by Monolith. In association with WingNut Films. © 2013 New Line Productions, Inc. © The Saul Zaentz Company. MIDDLE-EARTH: SHADOW OF MORDOR, THE HOBBIT, and the names of the characters, items, events and places therein are trademarks of The Saul Zaentz Company d/b/a Middle-earth Enterprises under license to Warner Bros. Interactive Entertainment. All other trademarks and copyrights are the property of their respective owners. All rights reserved.

MONOLITH LOGO, WB GAMES LOGO, WB SHIELD: ™ & © Warner Bros. Entertainment Inc. (s13)
Community content is available under
CC-BY-SA
unless otherwise noted.